Wayne Shorter

Schizophrenia | Tone Poet Series

Regular price

Sale price

$65.00 SGD

Unit price

per

---

About

Schizophrenia is one of Wayne Shorter´s most beautiful and lesser known Blue Note albums. The music travelled fast in the late 1960s. Schizophrenia was recorded in early 1967 between Miles Davis´ Miles Smiles and Sorcerer on which Shorter was the principal composer, but it was not released until 1968, after Filles de Kilimanjaro was released, Miles Davis first electric album.

Schizophrenia also became Shorter´s last acoustic Blue Note 1960s album. The instrumentation, a sextet with a three-horn frontline, even reminds of the Art Blakey Jazz Messengers for which Shorter was the musical director in the early 1960s. Not only Shorter was member of that band but also trombonist Curtis Fuller, while alto saxophonist and flautist James Spaulding was a previous member of the Sun Ra band before he became a member of trumpeter Freddie Hubbard´s band.

The rhythm section is largely the Miles Davis second great quintet with pianist Herbie Hancock and bassist Ron Carter, but Joe Chambers is the drummer. The music also sounds a lot like the material on Miles Smiles and Sorcerer. The opening track "Tom Thumb" is one of Shorter´s funky songs in the spirit of "Footprints", while "Go" is more in the melancholic mysterious vein of "Masqualero". Most of the other songs falls somewhere between these two in mood and tempo. The exception is the ballad "Miyako" which like his earlier "Infant Eyes" is dedicated to his daughter Miyako.

Shorter´s overlooked sextet and septet albums

Shorter himself is the most featured soloist, playing his typical, more relaxed Coltrane influenced style. Hancock is sparse and elegant in his solos and yet showing real dexterity, as on "Kryptonite" by Spaulding which is the only song on the album which is not a Shorter original. Spaulding also gets a lot of solos, both on flute and on alto saxophone. They are really good and interesting, and he really colors the albums with these. Spaulding recorded on all three of Shorter´s large ensemble albums for Blue Note. The other two were The Soothsayer (1979) and The All-Seeing Eye (1966). Both were recorded in 1965.

Shorter´s sextet and septet recordings for Blue Note have been more overlooked than his quartet and quintet work for the label, which is strange since they point towards the orchestral sounds that Shorter has returned to again and again with his band Weather Report, and on later albums like High Life (1995) or Emanon (2018). But Schizophrenia is not only a road towards Shorter´s later works, it is also a beautiful place in its on right with lots of interesting things to stop by to study. Jazz Desk

 

Label:

Blue Note

 

– B0036692-01,

 

Blue Note

 

– BST 84297

Series:

Blue Note Tone Poet Series

Format:

Vinyl,

 

LP, Album, Reissue, Stereo,

 

180g, Gatefold

Country:

Worldwide

Released:

Genre:

Jazz

Style:

Post Bop

Share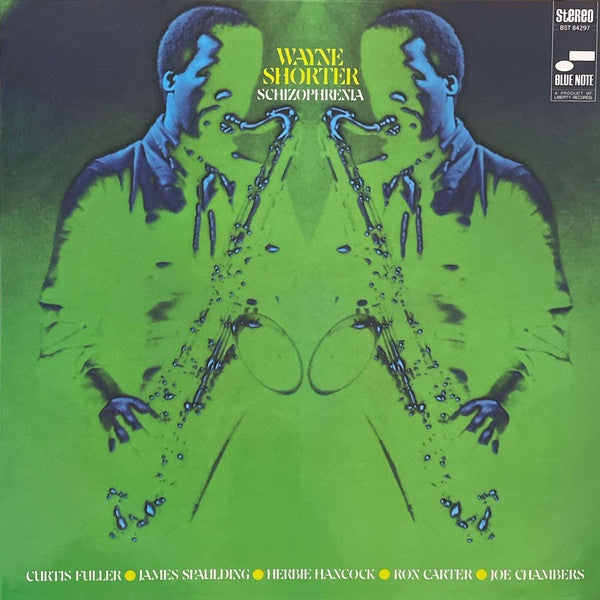 Choosing a selection results in a full page refresh.