VA

À Moi La Liberté, Early Electronic Raï, Algérie 1983

90

Regular price

Sale price

$48.00 SGD

Unit price

per

---

About

Before becoming an international musical phenomenon, raï was first and foremost the expression of a social behaviour, of a way of being. It bothers, excites, seduces, but leaves no one indifferent! Delving into the deepest recesses of raï, this compilation serves as a tribute to its roaring years, but also as a rejuvenation of the genre in its sulphurous, subterranean version. It seemed like a good idea to dig into nearly untraceable cassettes, thus confirming it's in the oldest of Oranese pots that the very best of raï is to be found. Just 50 years ago, no one would have believed even a bit in a genre seemingly bound to forever turn round and round in its native Oran, laying low in one of its many coastal road clubs. In these underground venues, singers - backed up by a minimalist orchestration for lack of space - would move their audience to laughs and tears, sobbing in a beer or chuckling down (dry) whisky. Either way, the public would unfailingly be moved by their defying tunes, sounding like a challenge to the established, self-righteous order of things - complete with trumpets, electric guitars, accordions and an array of percussions. Through the pre and post-independence years, from 1950 to 1970, raï urbanised itself, with a generation growing up between asphalt and concrete to the sound of traditional flute, but also and mostly listening to twist, French variété and rock music. Their names were Boutaïba S'ghir, Messaoud Bellemou, Groupe El Azhar, Younès Benfissa or Zergui, and they passed on their collection of songs to the incoming "Chebs" -breathing a second youth into them. Oran, the capital of West-Algeria, will be at the heart of this rejuvenation. Raï's success was overwhelming, so much so that in 1985 - when it appeared at the Youth Festival in Alger and when Oran held its first raï festival - the Algerian authorities hastened to nationalise the genre, all the while calling for its "normalisation" (that is, the "purification" of its lyrics), and to declare it "an integral part of the national heritage". About a year later, raï is introduced to France via two festivals, one in Bobigny and the other at La Villette. They brought together all of the big names of raï, old and new, and drew in a public mostly made out of nostalgic blédards (a French expression designating a person originating from the Maghreb), plus a handful of curious onlookers. In France, raï doesn't stir much enthusiasm - if not in the media, or of a sociological kind. While in the Maghreb cassettes dealers are regularly ransacked, only a few French labels dare investing themselves in the recognition of a music bringing a new fresh wind, seducing and conquering other Algerian as well as Moroccan cities and regions. Later on, the Oranese style gains international appreciation and evolves technically - though more technique also means less feeling. Luckily though, the historical channel raï to be heard in the dives and discos survives its shinier cousin - sex, alcool and raï'n roll style. This compilation is a tribute to the kind of raï which, still and always, makes us love raï. - Kompakt.fm

 

Label:
Born Bad Records

 

– BB160
Format:

2 x

 

Vinyl,

 

LP, Compilation

Country:
France
Released:
Genre:
Electronic,

 

Folk, World, & Country
Style:
Raï

Share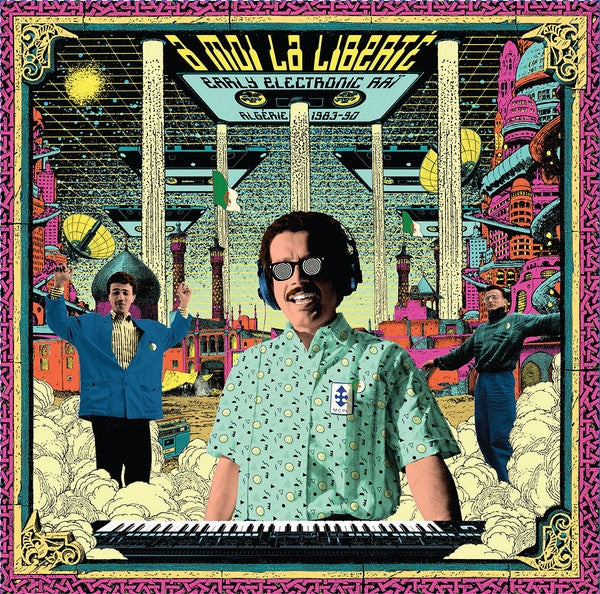 Choosing a selection results in a full page refresh.