Tord Gustavsen | With Simin Tander & Jarle Vespestad

What Was Said

Regular price

Sale price

$55.00 SGD

Unit price

per

---

About

"What Was Said" brings new colours to Tord Gustavsen's musical palette.

His latest trio project builds upon the subtle understanding of his long musical association with drummer Jarle Vespestad, introduces German-Afghan vocalist Simin Tander, and explores the tradition of Norwegian church music in untraditional ways: "For the repertoire of the new project, Simin and I have been working with Afghan poet B. Hamsaaya, translating and shaping a selection of hymns that I grew up with in Norway into Pashto," Gustavsen explains. "This process has been challenging and really fruitful. We have gone quite far in interpreting the lyrics in a more 'integral' manner, reaching into a space where I feel that Sufism and Christianity actually meet." Simin Tander also sings, in English, verse of Persian mystic Jalal al-Din Rumi (1207-73) and US proto-Beat poet Kenneth Rexroth (1905-82).

As a pure play of sounds, too, the combination of Tander's voice and Gustavsen's piano and discreet electronics has an emotional persuasiveness of its own, outside the limits of language. The trio takes its programme of "hymns and visions" to the concert halls and clubs of Europe in the first months of 2016.

What was said was recorded at Oslo's Rainbow Studio in April 2015 and produced by Manfred Eicher. – ECM Records

"Tord Gustavsen, the lyrical and scholarly Oslo-born pianist, got big with a blend of pensive improv and Norwegian hymns, but lately he has moved closer to jazz. This album, however, finds him returning to simple songs with religious roots, and to collaboration with a remarkable singer (he has previously worked with compatriots Solveig Slettahjell and Silje Nergaard) in the tender-toned German-Afghan Simin Tander. Tander sings Norwegian traditionals and hymns in Pashto, and Beat icon Kenneth Rexroth's stark renewal poem I Refuse and Persian sufi mystic Rumi's writings in English, while Gustavsen gradually adds melodic embroidery, glimpsed grooves and electronics, with Jarle Vespestad's fragile percussion the only other instrumental sound.

The set occasionally suggests an early Gustavsen band spliced with Susannah and the Magical Orchestra, and the mixture of the instrumentalists' distilled reflections with Tander's palette of hummed tones, sighing note-bends and pristine inflections represents a beguiling new Gustavsen collaboration." - The Guardian

Musicians:

Tord Gustavsen, piano
Simin Tander, vocals
Jarle Vespestad, drums

 

More about Tord Gustavsen:

"Musically, I have the very clear feeling that my stretching out and being creative has a much better chance of happening organically, avoiding alienation and stiffness, when done in energetic connection with my roots – with the sensuality and groundedness of the hymns and the spirituals and the lullabies."

Tord Gustavsen was born in Oslo in 1970 and grew up in the Norwegian countryside. He began playing the piano aged 4, and was composing and improvising before he learned to read music and perform classical pieces. He recalls: "I played in churches and local settings of different kinds, combining classical training with writing my own songs and performing gospel."

At the age of 19, he began his studies at the University of Oslo and his interest in jazz started to flourish. He was accepted into the jazz department at the Conservatory of Music in Trondheim in 1993, where he formed several bands and toured all over Scandinavia.

Changing Places, Gustavsen's 2003 recording debut with his trio, was ECM's most successful debut in a decade. Michael Tucker wrote: "Nothing is forced, or rushed: a variety of quietly memorable, essentially poetic themes unfold, every one of them caressed rather than clipped by pianist Gustavsen… this is superb stuff." 2005 saw a second trio album, The Ground, which reached No. 1 in the Norwegian pop charts and in 2007 they completed the trilogy with Being There.

In 2009 Gustavsen launched a new, more flexible ensemble, which released the album Restored, Returned. The line-up included Tore Brunborg on saxophones and Kristin Asbjørnsen on vocals. This was followed in 2012 by an instrumental quartet album called The Well, which John Fordham praised in the Guardian for its "gospel playing, acres of open space, memorable melodies and a glistening delicacy of touch".  Gustavsen says: "Taken together, the bands and projects represent my quest for a deepening of my own playing." Gustavsen's most recent line-up sees him on piano and electronics collaborating with Simin Tander (vocals), Jarle Vespestad (drums). – ECM Records

Item description:        

| | |
| --- | --- |
| Artist: | Tord Gustavsen | With Simin Tander & Jarle Vespestad  |
| Title: | What Was Said |
| Label: | |
| Format: | 2 × Vinyl, LP, Album, Gatefold 180 gram |
| Pressing: | Germany |
| Release Date: | 2016 |
| Genre: | Jazz, Folk, World |
| Style: | Contemporary Jazz, Folk, Nordic, Female Vocals |
| Catalog No: | ECM 2465 / 476 6532 |
| Condition: | New |

 

 

 

 

Share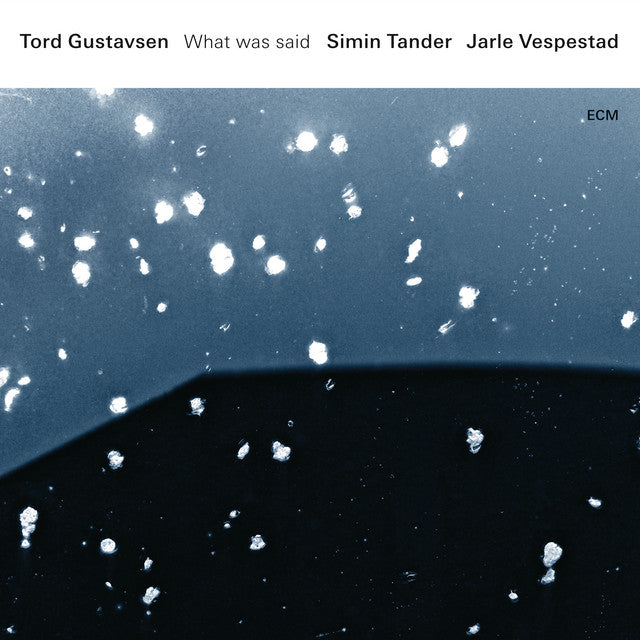 Choosing a selection results in a full page refresh.