Quasimoto

The Unseen

Regular price

Sale price

$48.00 SGD

Unit price

per

---

About

A TAV Essential Listening Album.

The Unseen is the debut studio album by Quasimoto, an alter ego of American hip hop musician Madlib, originally released under Stones Throw Records in 2000.

"The Unseen, released in 2000, was among the new decade's first sleeper hits, ranking on Spin's year-end list at a time when the producer and label were unknown outside of hip-hop DJ circles. Few could have known that this, Madlib's solo debut, would be just the first album in a rich catalog of music spanning from hip-hop to jazz, with wild experimentation and collaborations with MF DOOM & J Dilla. The identity of Quasimoto himself was a bit of a mystery - maybe he was Madlib, maybe he wasn't. Maybe it's none of our business.

In fact, Madlib created Quasimoto as someone to rap on his beats for his own private listening while living in Oxnard and Santa Barbara in the 1990s. The Unseen was born out of Peanut Butter Wolf's convincing Madlib to release these recordings for the rest of the us to hear." – Stones Throw Records

"When The Unseen was released in 2000 as the solo debut from Lootpack MC/producer Madlib, no one could have known that it would be just the first album in an arm's-length discography that would cover everything from live jazz to Doom and Dilla collaborations, mostly to gushing critical acclaim. At the time, it was simply a quirky leftfield hip-hop record by a guy who burned grass like a wildfire and lived in Peanut Butter Wolf's basement-- like literally lived in the basement studio known as the Bomb Shelter. No one knew that Madlib preferred the solitude of the studio to pretty much anything else and that records flowed from his mind and sampler at a dizzying pace. Now, thanks to endless profiles and album reviews, we know, and it makes The Unseen even more interesting. …

Of course, the main attraction of any Madlib record is his production, and The Unseen holds up particularly well because Madlib hasn't changed this particular strain of his beatmaking all that much. Instead of tinkering with his style, he creates a new one. When he wanted to do some live jazz, he did Yesterday's New Quintet. Street bangers went to the Jaylib album. Pop remixes, reggae mixtapes, instrumental 12"s, nothing stays on paper with Madlib. So anyone who slobbered over Madvillainy or The Further Adventures of Lord Quas won't be disappointed by the now five-year-old production, nor should they skip Lootpack's Soundpieces or MED's Push Comes to Shove. If anything, The Unseen is a better "album" than Further Adventures because the compositions are more fleshed-out, more cohesive and, well, more. Madlib has a short attention span, but he kept most of the songs to almost three minutes here without much junk. The jazz and soul samples are as obscure and well-selected as ever, with Madlib's particular style of chopping a drum sample keeping the beat from becoming a bore." – Pitchfork

"Grounded in some of the finest jazz loops this side of A Tribe Called Quest's Low End Theory, The Unseen spins out in all sorts of unexpected directions. With 24 tracks (most under three minutes) flowing together like individual chapters of a good book, The Unseen represents a dramatic leap forward for Madlib as a producer, as he integrates left-field, found-sound samples with dexterity and wit that brings to mind Prince Paul's consistently surprising production work. Quasi's ethereal flow—he rhymes a little like a severely blunted Talib Kweli—is far more engaging than the more straightforward Lootpack, helping make The Unseen a smoothed-out but engagingly odd musical journey worth taking." - AV Club

Item description:

| | |
| --- | --- |
| Artist: | |
| Title: | The Unseen |
| Label: | |
| Format: | 2 × Vinyl, LP, Album |
| Pressing: | US |
| Release Date: | This reissue: 2001 - | Original - 2000 |
| Genre: | Hip Hop |
| Style: | Rap, Jazzy Hip-Hop |
| Catalog No: | STH 2025-1 |
| Condition: | New |

Share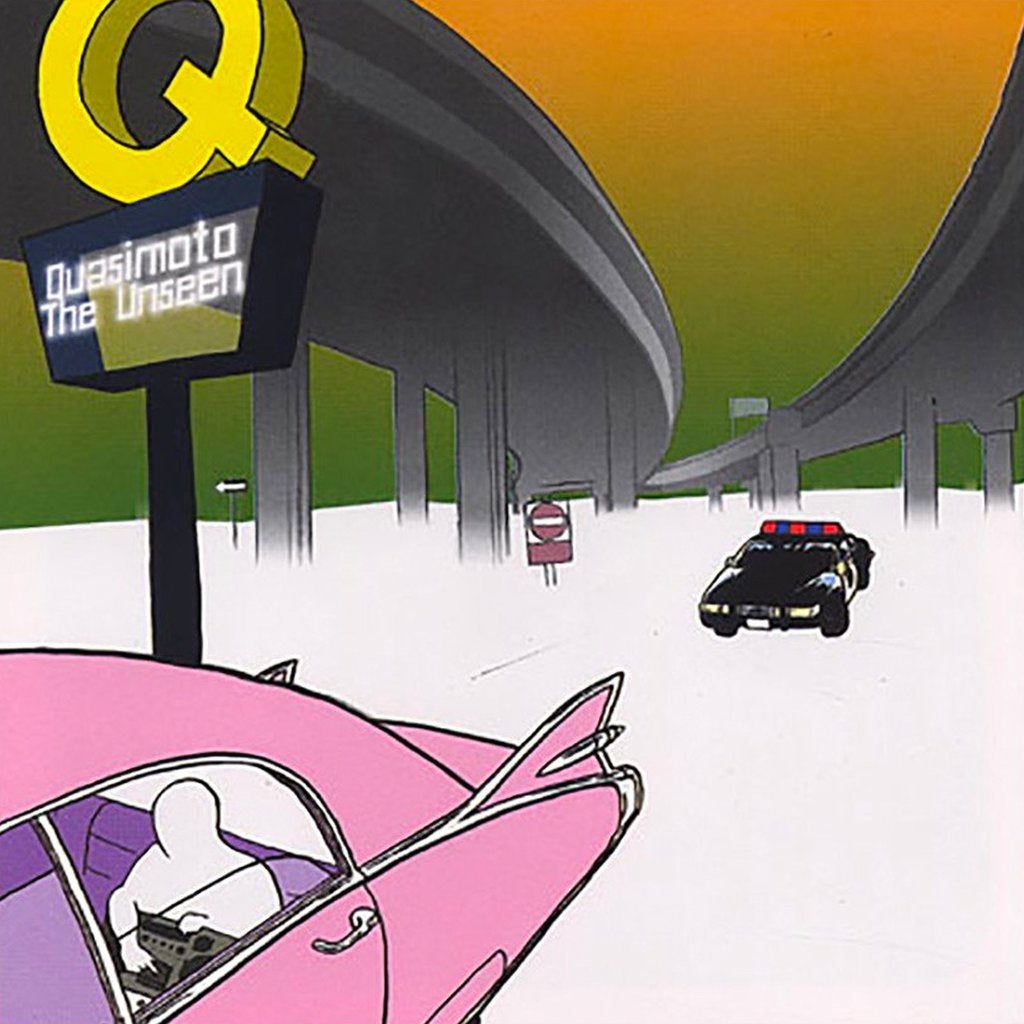 Choosing a selection results in a full page refresh.