Thelonious Monk And Gerry Mulligan

Mulligan Meets Monk

Regular price

Sale price

$39.00 SGD

Unit price

per

---

About

Mulligan Meets Monk documents the 1957 meeting of two sharp musical minds. Though the pairing may seem unlikely, baritone saxophonist Gerry Mulligan -- whose cool, West Coast style blends dexterity with laid-back grace -- and Thelonious Monk -- whose radical, angular piano playing and thoroughly modern compositions are blueprints for the possibilities of bop -- sound remarkable together. In fact, it is the contrast between the players' styles that lends this set its balance and appeal. The program, which includes four compositions by Monk and one by Mulligan, is unassailable. Mulligan acquits himself admirably on the Monk classics "'Round Midnight," "Rhythm-a-ning," and "Straight, No Chaser," unfurling his smooth tone over their zigzagging melodies and ambitious scalar architecture. Mulligan's "Decidedly," a bright bop workout, fits easily alongside Monk's tunes, especially with the help of Monk's off-kilter, accented comping. Bassist Wilbur Ware and drummer Shadow Wilson lend solid support to the spirited playing of the two leaders, making this top-notch session -- with its great tunes, chemistry, and soloing -- a true classic. - Allmusic

Label: Original Jazz Classics – OJC-301, Riverside Records – RLP-1106

Format: Vinyl, LP, Album, Reissue, Repress

Country: US

Released: 2010

Genre: Jazz

Style: Bop, Cool Jazz

Share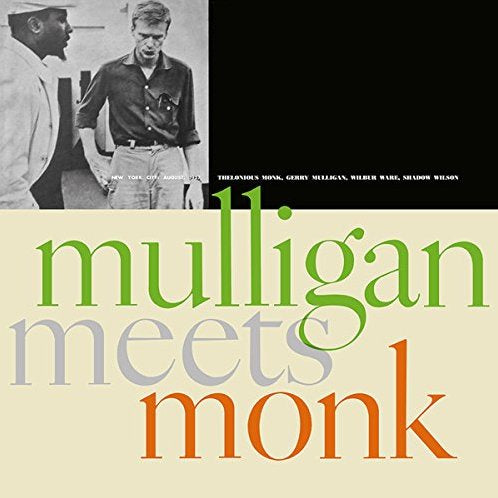 Choosing a selection results in a full page refresh.