The Cannonball Adderley Sextet

In New York | 2014 Reissue

Regular price

Sale price

$39.00 SGD

Unit price

per

---

About

A TAV Curator's Pick.

The Cannonball Adderley Sextet in New York is a live album by jazz saxophonist Cannonball Adderley recorded at the Village Vanguard and released on the Riverside label featuring performances by Adderley with Nat Adderley, Yusef Lateef, Joe Zawinul, Sam Jones and Louis Hayes. 

"This excellent live date from the Village Vanguard was the recording debut of the Adderley sextet, with Cannonball waxing eloquently and swingingly on alto, brother Nat charging ahead on cornet, and the versatile Yusef Lateef (who had joined the band only three weeks earlier) adding a bit of an edge on tenor, flute, and unusually for a jazz wind player, oboe on the odd, dirge-like "Syn-Anthesia." Also, this was the first recorded appearance of pianist Joe Zawinul – a little over three years since his arrival in America – in Cannonball's band. This group would be Zawinul's spring-board to prominence in the jazz world, and readily apparent is how his compulsively funky mastery of bop and the blues had fused tightly with the Sam Jones/Louis Hayes rhythm section. Included is one of the earliest recordings of a Zawinul composition, "Scotch and Water," a happy, swinging blues." – AllMusic

"…Compositionally, the highlights are the opening tune, "Gemini" (Jimmy Heath's bi-modal 6/8 blues); "Dizzy's Business" (a bebop gem by Basie arranger Ernie Wilkins); and an infectious Zawinul blues, "Scotch and Water." Yusef Lateef's compositions are not especially memorable in themselves but, along with his playing, provide richness, depth, and resonance lacking on the Brothers' other recordings. And his tenor playing is so good on the set chaser by Sam Jones, one wishes the record-ing would simply run on. Even with the addition of Lateef, Cannonball dominates throughout. His introductory remarks on what it means to be truly "hip" ("hipness isn't a state of mind: it's a fact of life") are immediately illus-trated by an arresting, hard-charging solo: he's a flaming comet on "Gemini," placing the ensuing soloists in the unenviable position of maintaining the brightness. But give equal credit to unsung he-ro Sam Jones, an unflappable walker whose every gritty note is distinct with no extra help from the engineering." – All About Jazz 

Item description:

| | |
| --- | --- |
| Artist: | The Cannonball Adderley Sextet |
| Title: | In New York |
| Label: | Riverside Records |
| Format: | Vinyl, LP, Album, Reissue |
| Pressing: | USA |
| Release Date: | This reissue: 10 Nov 2014 | Original - 1962 |
| Genre: | Jazz |
| Style: | Soul-Jazz, Hard Bop, Bop, Modal |
| Catalog No: | RLP-9404 |
| Condition: | New |

 

Share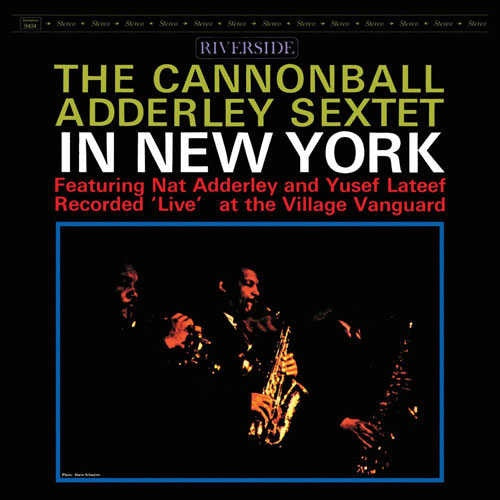 Choosing a selection results in a full page refresh.