Kenny Dorham

Matador

Regular price

Sale price

$70.00 SGD

Unit price

per

---

About

"Dorham and McLean, two of jazz's most passionate and lyrical players, are in very good form here. Helped by a varied set of material and an energized Timmons, they have fashioned an album of surpassing interest." – Ira Gitler, Downbeat Magazine, April 1963

Sometimes in the course of our exploration of potential titles to reissue, we come across a true gem that somehow escaped mainstream popularity. Our all-analog HQ-180 LP of Matador by trumpeter Kenny Dorham and his quintet is the latest and perhaps most crystalline example of this. There has never been a single 180-gram pressing available. It has only been reissued (officially) once in 50 years. When you hear it, you'll scratch your head raw that this under-appreciated gem has been missing for so long.

Working with a soulful Jackie McLean on alto, a loose and swinging Bobby Timmons on piano, and the locked-in rhythm section of Teddy Smith on bass and J.C. Moses on drums, the playing is spontaneous, energetic, and expressive. Check out the frenetic interplay between Timmons and Moses during the long trailing section of "Melanie."

Recorded in a single day in 1962, Matador contains the sprawling epic McLean-penned "Melanie" (a suite in three parts), as well as Dorham's smoldering "El Matador" and a stirring take on "Beautiful Love". Throughout the session, Timmons, Smith, and Moses provide sublime support while Dorham and McLean trade sinewy solos. Emotional musical exploration ties to a readily approachable post-bop structure that makes for a snappy, yet heady, mix of tunes that put a tap in your foot while engaging your head and heart.

Chris Bellman cut Matador from the original analog master tape and the sound is revelatory! Tight acoustics of the Soundmaker Studios provide tightened bass, crystal-clear drums, and beautifully rounded tones from Dorham's and McLean's horns. This is another fine example of Impex Records cutting through the fat of modern music-making to reveal the very essence of the music and the giant talents who created it. We are elated to bring this sadly-neglected classic back for true believers to add to their collection and (maybe more importantly) to a whole new generation to discover for the first time.

"Kenny Dorham's Matador can safely claim the all too common distinction of being a classic among jazz connoisseurs while virtually unknown to the casual listener… A fantastic session by any standard."- Brandon Burke, AllMusic Guide - Impex Records

Label:

Impex Records

 

– IMP6042

Format:

Vinyl,

 

LP, Album, Limited Edition, Numbered, Reissue, Stereo

Country:

US

Released:

Genre:

Jazz

Style:

Post Bop

Share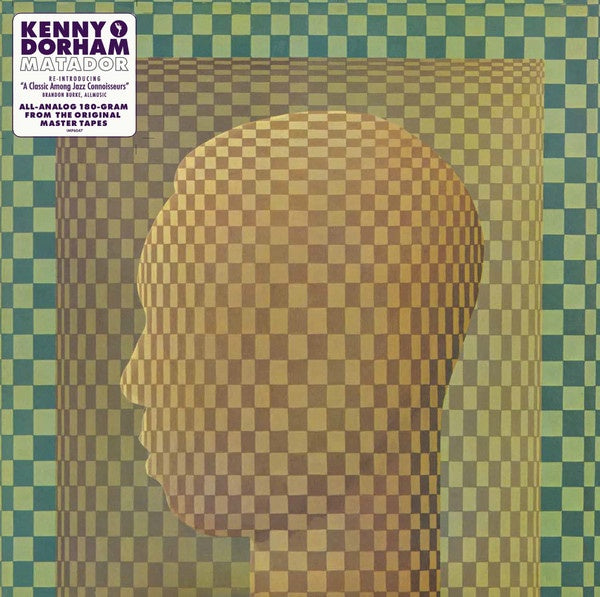 Choosing a selection results in a full page refresh.