Don Cherry

Complete Communion | Blue Note 2015 Reissue

Regular price

Sale price

$39.00 SGD

Unit price

per

---

About

"Complete Communion is a 1966 album by American jazz composer Don Cherry, his first release on Blue Note Records.

Each side of the original LP were suites, side-long compositions working with several themes. Critics have proposed this recording as an important innovation in the free jazz of the time, introducing "an alternative both to athematic improvising and to monothematic pieces"." – Wiki

"Not counting a couple of sessions he co-led with John Coltrane and Albert Ayler, Complete Communion was the first album Don Cherry recorded as a leader following his departure from the Ornette Coleman Quartet. It was also one of the earliest showcases for the Argentinian tenor saxophonist Gato Barbieri, who Cherry discovered during a stay in Rome. While the music on Complete Communion was still indebted to Coleman's concepts, Cherry injected enough of his own personality to begin differentiating himself as a leader. He arranged the original LP as two continuous side-long suites, each of which incorporated four different compositions and was recorded in a single take." – All Music

Item description:        

| | |
| --- | --- |
| Artist: | Don Cherry |
| Title: | Complete Communion |
| Label: | Blue Note |
| Format: | Vinyl, LP, Repress |
| Pressing: | US |
| Release Date: | This reissue: 2015| Original: 1966 |
| Genre: | Jazz |
| Style: | Free Jazz, Post Bop |
| Catalog No: | BST 84226 |
| Condition: | New |

Share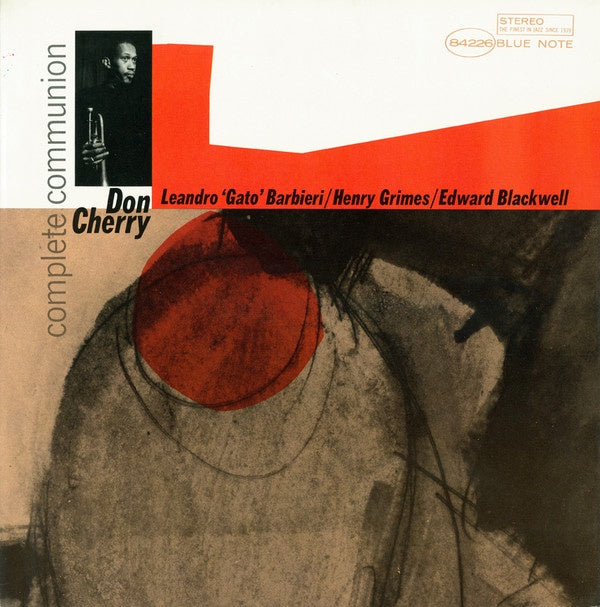 Choosing a selection results in a full page refresh.