Buena Vista Social Club

Buena Vista Social Club At Carnegie Hall

Regular price

Sale price

$42.00 SGD

Unit price

per

---

About

A TAV Essential Listening Album.

"'Buena Vista Social Club At Carnegie Hall' is only the second album ever released by the original Buena Vista Social Club™; this extraordinary collection of Cuba's greatest musicians includes Ibrahim Ferrer, Rubén González, Eliades Ochoa, Omara Portuondo, Compay Segundo, Cachaíto López and Guajiro Mirabal.

The Carnegie Hall concert was a unique event that can never be repeated. It was the focus of the Wim Wenders award winning film which has helped spread the story of the incredible characters that made up the band. 2008 marks the 10th anniversary of the Carnegie Hall concert.

Produced by Ry Cooder and the same talented team that produced the original album. The album includes previously unpublished photographs from the concert and a 4,000 word sleeve note by Ry Cooder and the musicians themselves.

The performances on the album are absolutely brilliant and capture a collective enthusiasm, warmth, energy and feeling of triumph that was felt together by both audience and band that special night back in 1998." - Buena Vista Social Club

"One thing the music on this lavishly packaged double-disc set does accomplish, however, is reveal without doubt that the music in the film is as profound, sensual, and beautiful as it was when accompanied by images. It is true that eight of the songs that appeared on the eponymous studio album are replicated here, but these live versions blow them away.

In addition, the 16 songs here, covering two full discs, offer extended instrumental workouts to go along with the glorious vocals, making each tune -- from the opening "Chan Chan" all the way through to the glorious bolero "Silencio" duet between Ferrer and Portuondo -- reflect all of the lived history not only of the singers, but of the entire era for an audience to behold. Segundo's rich and lived-in baritone inhabits disc two's opener, "Orgullecida," so fully that no one should ever be allowed to cover it again.

As is the standard for Nonesuch, the sound of the evening is fantastic, the spark in the mix has been left in, and the backing band sounds as varied and tight as it did in the film." - AllMusic

 

 

Item description:

| | |
| --- | --- |
| Artist: | |
| Title: | Buena Vista Social Club At Carnegie Hall |
| Label: | |
| Format: | 2 × Vinyl, LP, Album, Gatefold |
| Pressing: | UK |
| Release Date: | 2008 |
| Genre: | World |
| Style: | Latin, Afro-Cuban Jazz, Afro-Cuban, Danzon, Son, Live Album |
| Catalog No: | WCV080 |
| Condition: | New |

 

Share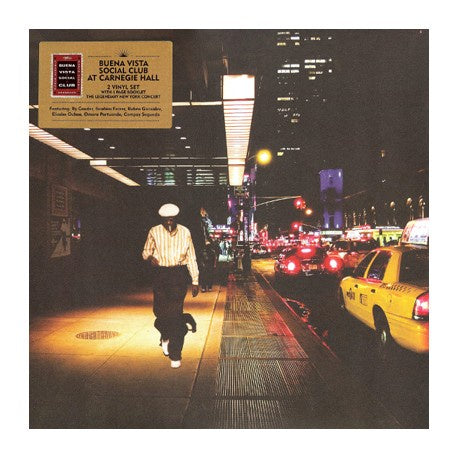 Choosing a selection results in a full page refresh.